MENA's home services powerhouse with over 1 million users: Justlife

The Middle East's leading service marketplace Justlife (previously Justmop) connects professional and top-rated service providers with people requiring home services such as cleaning, basic healthcare, beauty & wellness, maintenance and others in the MENA region. Since inception in 2015, Justlife significantly expanded the breadth of its home services offerings in the pursuit of becoming a super app for the region.
When the co-founders Kerem Kuyucu and Ali Cagatay Ozcan started Justlife, their idea was to initially dominate the UAE market in the home cleaning category by connecting verified personnel with consumers in need of cleaning services. As the business scaled rapidly in the cleaning vertical and Justlife entered more homes, they quickly realized that customers had a growing appetite for other home services in UAE and beyond. This pushed Kerem and Cagatay to expand across adjacent verticals and nearby geographies.
The agile approach that Kerem and Cagatay had been following also paved the way for exploring other opportunities following the Covid-19 outbreak — during the early days of the pandemic, Justlife immediately launched disinfection services for home & office spaces. They also recognized a sharp increase in demand for basic healthcare / testing services at home, and launched the healthcare at home vertical, starting with at-home PCR tests. Having become the first online platform to provide such services at scale, Justlife successfully weathered the downturn caused by the pandemic by diversifying its revenue stream and has been able to keep its team intact during a relatively tough period.
Given the nature of its consumer dependent service model, Justlife have undoubtedly been affected negatively by the pandemic. Navigating the situation in hand and the unfolding of the Covid-19 outbreak, Cagatay and Kerem emphasized their strategy of building trust with their stakeholders and strengthening the ties they had with their employees and service professionals.
"There were times when our sales even dropped by 50%, even after the government declared home cleaning as one of the essential services but we proudly say that our loyal customers never gave up on us! I'd just like to say that, even if the times are difficult, you have to focus on the right goals, and eventually you will get through all the obstacles that come your way" said Kerem as he explained their way of thinking with Cagatay.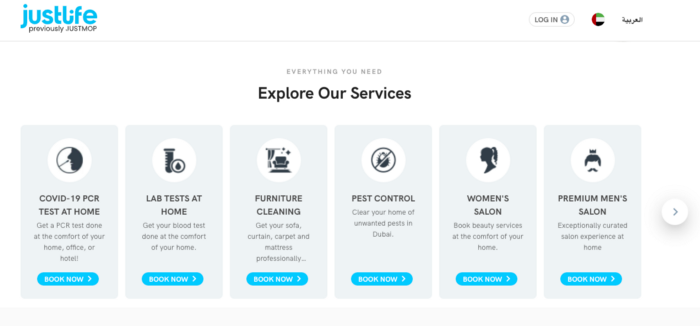 In addition, Kerem explained their approach and strategy by noting the following;"We re-worked our strategies on the technology front to build an app infrastructure that will enable us to launch a service within a day! Our technology, business development and marketing teams worked day and night to meet demand with supply. The next step was pretty quick after the success of disinfection services. We launched new services one after another, from salon & spa at home to PCR tests at home and other specialized services. We rapidly entered the beauty and healthcare categories, spearheaded at-home PCR testing, and are now expanding into many more areas of healthcare starting with IV Therapy at home".
As well as talking about the shift in strategy to grow the scope of their services, Kerem explained their decision to transform Justmop into Justlife: "We were rapidly transforming from a cleaning platform to a life companion for our users that did so much more than just mop. We really needed a brand name that matched our vision and hence, in 2021, we transformed from Justmop to Justlife".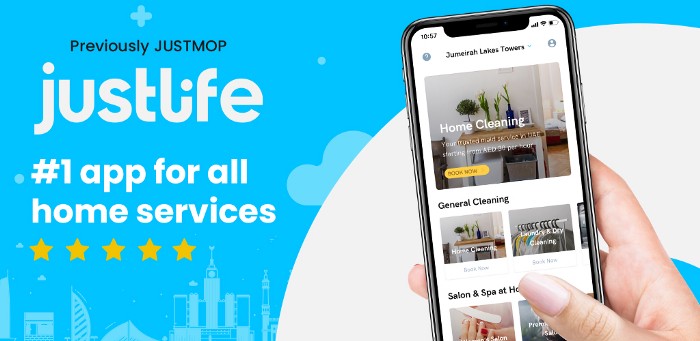 "Our aim is to create employment opportunities for millions."
To date, Justlife has utilized over 25,000 professionals in numerous jobs. However, Kerem and Cagatay don't want to stop here. They are sharply focused and dedicated in growing Justlife categorically by opportunistically launching new services and geographically across the broader MENA region. In shaping their strategy, Kerem and Cagatay analyze target markets & demographics in detail and try to gauge the real need in certain geographies with customer surveys.
As one of the early backers of Justlife, we are proud to be a part of Justlife's journey as Kerem, Cagatay and their team conquer MENA and beyond!
About the story of Justlife
Kerem and Cagatay both started their entrepreneurial journey as early employees at Rocket Internet where they met for the first time and clicked instantly. They call it "it was co-founder vibes at first sight!". Kerem and Cagatay initially began as entrepreneurs in residence and climbed up the career ladder to become co-directors of the production department at Rocket Internet. After Rocket Internet ceased their operations, the duo decided to start something on their own.
As in many startup stories, Kerem and Cagatay realized the opportunity in the market based on their own needs. Back in 2015, when Cagatay and his wife moved to Dubai, they had trouble finding a good house cleaning service and discovered that this is a citywide issue. While Cagatay was sharing his frustration with Kerem, they realized the gap in the market and this was the spark that led them create a marketplace to give customers access to top-notch cleaning services all days of the week.
"We went from answering phone calls and chat requests ourselves to hiring our first employee in that same year — and that's how Justmop was launched in the UAE." — Ali Cagatay Ozcan
This is how two young Turkish entrepreneurs working out of their living rooms back in 2015 started an organization that employs close to 300 people from 19 different nationalities today.
The most fascinating part of the story is that Kerem and Cagatay believe that they are still at the beginning of their journey. The home services market in the broader MENA region is worth over $10 billion and given that Justlife has only penetrated a small portion of it so far, so there's still a lot to do!